It's been awhile since I posted a one of my sketchbook pages! I get so wrapped up in yammering on about what I'm up to, I completely forget I wanted to post all these!
I was trying to find a drawing to post that relates to something going on with me right now and I the best I could do was that my good friend
Jacob Chabot
was in the office the other day and gave me some of his homemade banana bread! YUM! Very good, but I think I liked his peanut butter cookies from a few weeks ago even more... ;-)
Anyway, Jacob writes and draws a FANTASTIC comic called
The Mighty Skullboy Army
that all of you should be reading! He's also draw a few things here and there for Marvel (and other not as cool comic companies...hehe)! Here's his awesome monkey that he drew in my book, one of Skullboy's...lets say, henchmen! ;-) hehe Isn't he adorable!?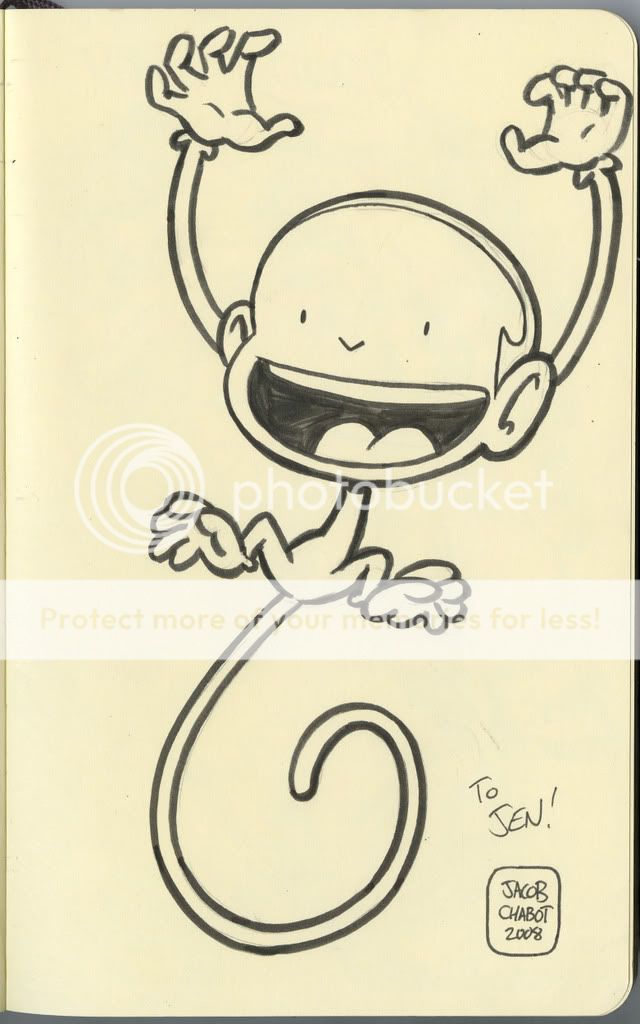 I highly recommend all of you check out this book, it's funny and adorable. Jacob is very talented. I believe he will also be appearing at
MOCCA
in NYC next weekend if you'd like to meet him! You can pick up his digest or mini comics there, or more importantly by an original drawing, he'll draw whatever you want!! :)
As you can see, I'm a big Skullboy fan! I've even got the vinyl figure!!
And here's the awesome bathroom-themed Skullboy drawing he did for me! (I've got a skull-themed bathroom, so I though this would be perfect! And it IS!)
So yeah! Check it out!
The End.